Frequently Bought Together
Compare with Similar Items

Performance advanced T20 7443 CANBUS LED resistors/decoders are used for fixing LED turn signal lights hyper flash, malfunction of not light up for flickering on and off after installing the led turn signal lights, brake tail lights, or daytime running lights(DRL) bulbs error code on the dashboard for vehicles due to the led bulbs draw much less current than stock lamps.

T20 7443 CANBUS LED Resistors Fix Turn Signal Hyper Flash/Error
Packages

: Includes one pair of T20 7443 CANBUS LED resistors, advanced version.

Easy Installation: Check above installation video for more details. Average Installation time: 15-20 minutes.

T20 7443 CANBUS LED resistors fix: Turn signal lights bulb hyper flash/anti-flickering / Cancels Radio Interference and Light Turning off when Engine Starts / Cancels Error Message by OBC.
T20 7443 CANBUS LED resistors can solve LED turn signal lights hyper flash, brake tail lights error code, non-function etc. problems of most vehicles, such as Mercedes Benz, BMW, Audi, Chrysler, MINI, Cadillac, Chevrolet, Doge, Hyundai, Jeep, Ford, etc.
This T20 7443 CANBUS LED resistors will NOT compatible with the CK / SRCK socket, plz make sure the stock socket is standard type before purchasing. Aluminum Shell; Excellent performance.
Load Resistors heat up like light bulbs and get really HOT when working. Mount them on metal surface, NOT plastic.
Fits

: 7443, 7443LL, etc. Please check your stock harness to confirm it is the same harness before purchasing.

Disclaimer: This T20 7443 CANBUS LED resistors can be compatible for most vehicles, yet we can not guarantee it fixes all problems. IF IT DOES NOT WORK FOR YOU, PLEASE CONTACT US AND WE WILL FIGURE OUT A SOLUTION!
Difference Between advanced 7443 CANBUS LED Resistors vs Traditional?
High quality, engineered to last and be the safest way to add load equalizer to automotive lighting system: 3x more Surface Area for heat dissipation than traditional golden resistor.
The most thermally safe resistors on the market: Max. operating temperature about 200° F when properly mounted to metal surface, up to 100° F less than traditional golden resistor.
Super long reach: 36" cable measuring from bulb to resistor allowing resistor being mounted to a perfect metal flat spot (29.5" cable from resistor, 5.5" from male and female harness).
Lower profile, about 1/3 flatter than traditional golden resistor, greatly reduces the chance of touching any plastic parts.
Weather tight and sealed connectors between resistor and harness, weatherproof.
Friendly design, plug and play choices to either connector resistors to both high and low intensity for 3157 and 7443, or only to connector resistor to high intensity and to leave low intensity connector empty wrapped with electrical tape, is the case for most vehicles.
Current Draw: 2A @ 12V | 2.4A @ 14.4V.
Downside compared to golden resistor requires more space to mount: 3.44"x1.53" vs 1.97"x 0.89". But 36 inches of wiring makes finding an installation location easy.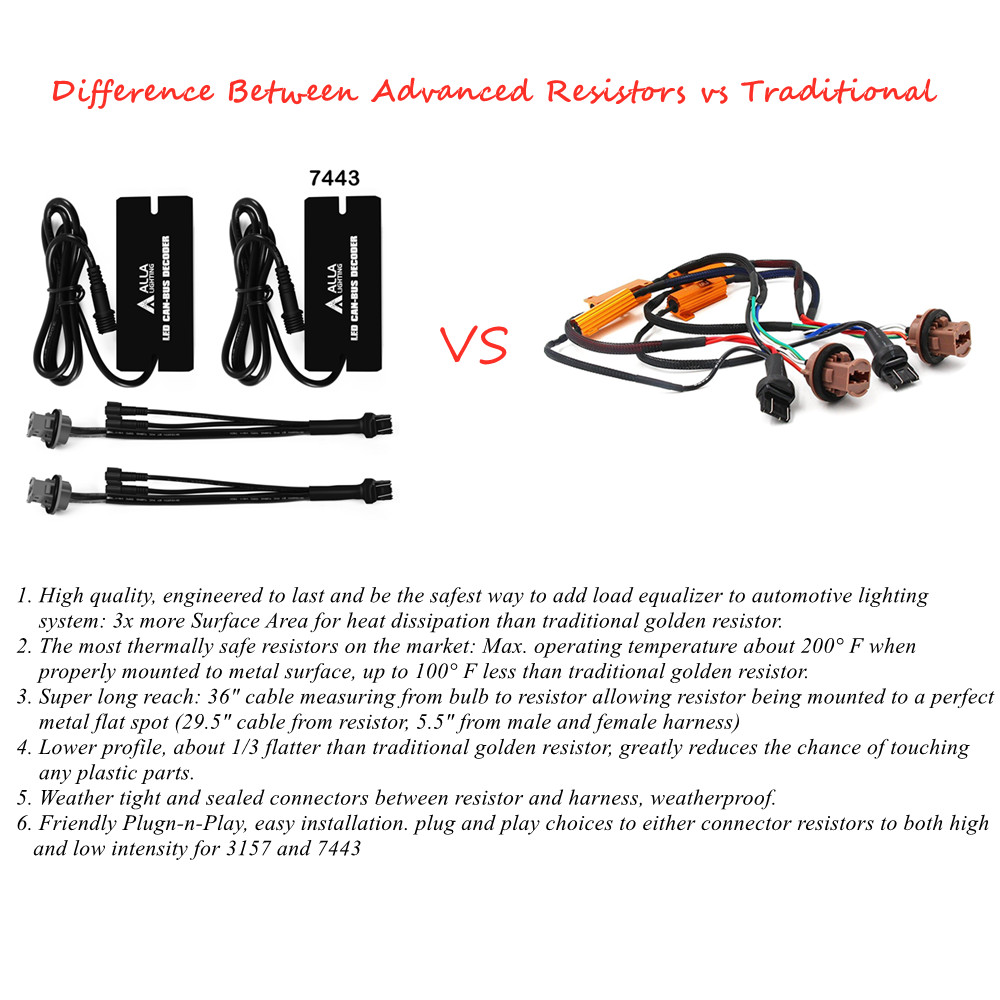 Fix LED bulbs flickering or error code
Alla Lighting warrants that its LED Conversion Kits will be free from defects in material and workmanship for ONE year from the date of purchase by the Original Purchaser. This warranty does not apply to any products that have been subjected to misuse, mishandling, misapplication, neglect (including but not limited to improper maintenance), improper installation, act of nature, motor vehicle accidents or alterations.
For more details, please click here.
One pair(2pcs) of 7443 CANBUS LED resistors, advanced version
Owner manual
Domestic (U.S.) Shipping
All domestic (U.S.) orders ship with USPS, and all orders will be shipped out within 24 working hours (except out of stock items), Free standard shipping.
All Orders will be shipped out within 24 working hours.
International Orders maybe charged customs clearance.
More details, please click here.
Check whether this bulb can fit your vehicle or not, check Bulb Size Guide for more details, please input your vehicle's Make, Year, Model, Qualifier, Applications to fast locate products options.
Vehicle's information:
2017 honda Accord
Excellent
Vehicle's information:
2016 Chevrolet Colorado LT
Good quality and Fast shipping
High quality Canbus Resistor Error Decoder. Super fast shipping with good domestic customer support.
Vehicle's information:
2019 ram 1500 classic
Canbus led resistor decoder
worked like it should installed harness and led bulbs, no hyperflash no codes
Vehicle's information:
2021 RAM 1500
This decoder works!
Had to use a decoder or a resistor for the rear turn signal. This one works just fine. It has an extra connection I didn't need. Please ignore my earlier review. That was a review of the front turn signal LED w/ built in decoder.