2016 Jeep Cherokee LED Headlights/Fog/Reverse/Interior Map Lights Bulb
Locate 12V lights replacement bulbs for your 2016 Jeep Cherokee LED headlights conversion kits bulbs, fog lights, turn signal lights, interior dome lights, map lights,back up reverse lights, luggage compartment lights, license platelights, front side marker lights, exterior and interior lights bulbsupgrade dim halogen, incandescent or damaged lamps, which will make youdrive Better! Safer! Brighter! and Smarter.

It is recommended to double check the stock bulb sizes based on your owner manual or stock lamps before purchasing, as a vehicle's specific bulb type maybe come with different bulbs for different Jeep Cherokee's trims.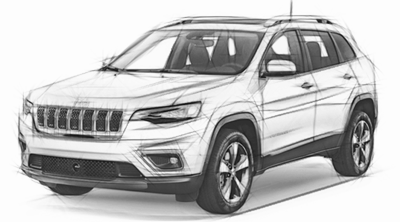 2016 Jeep Cherokee Front Exterior LED Light Bulb, Headlight/Fog/Signal
Daytime Running Light Bulb

Front Side Marker Light Bulb

Front Turn Signal Light Bulb

High Beam and Low Beam Headlight Bulb
(Stock Bulb#: 9005HL+), for the vehicle with halogen capsule headlamps

(Stock Bulb#: D3S, for the vehicle with HID headlamps)
Stock parking light bulb is LEDs. No single LED bulb can be replaced.
2016 Jeep Cherokee Rear Exterior LED Lights Bulbs, Brake Tail/Reverse
Rear Side Marker Light Bulb

Rear Turn Signal Light Bulb
2016 Jeep Cherokee Interior LED Lights Bulbs, Dome/Map/Luggage Lamps
Luggage Compartment Light Bulb
Accessories of 2016 Jeep Cherokee Interior LED Lights Bulbs