Frequently Bought Together
Compare with Similar Items

9012/9006/9005 LED decoders are used for fixing the malfunction of not light up for flickering on and off after installing the led bulbs for American and European vehicles due to the led bulbs draw much less current than stock lamps.
This kits usually are not compatible with Japanese vehicles with LED DRL flickering. For fixing LED DRL flickering, it is recommended to choose the 9005 LED DRL anti-flickering harness kits.
For most vehicles, LED bulbs just plug and play, easy installation. For some European vehicles, extra LED resistors or decoders or DRL anti-flickering harness maybe required to avoid the flickering or error code.
9006/9005 LED Decoders Fix Headlights/Fog Lights Error Code Flickering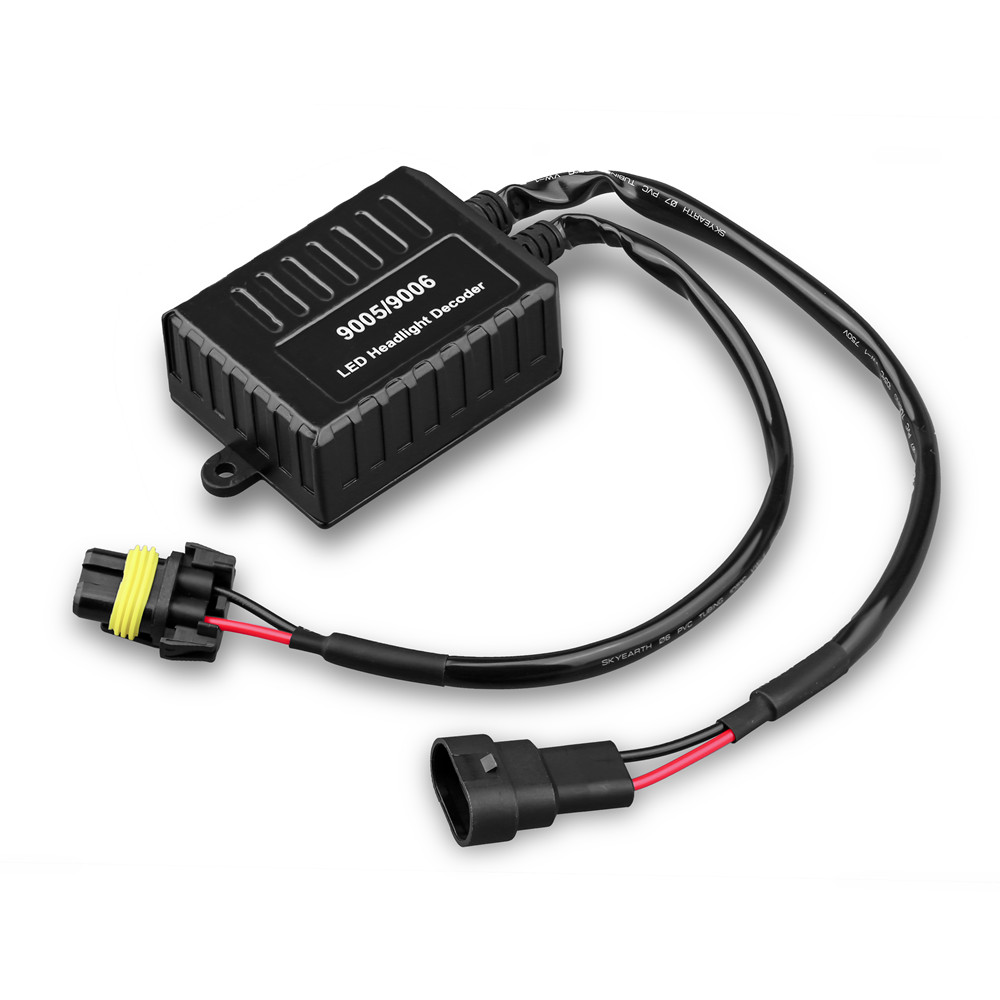 Packages

: Includes one pair of advanced 9006/9005 LED decoders.

Easy Installation: Check above installation video for more details. Average Installation time: 15-20 minutes

9006/9005 LED decoders fix: Bulb Flashing or Flickering / Cancels Radio Interference and Light Turning off when Engine Starts / Cancels Error Message by OBC
9006/9005 LED decoders can solve flickering, error code, non-function etc. problems of most vehicles, such as Mercedes Benz, BMW, Audi, Chrysler, MINI, Cadillac, Chevrolet, Doge, Hyundai, Jeep, Ford, etc.
Fits

: 9012, HIR2, 9005, 9006, HB3, HB4, 9005XL, 9006XL, 9005LL. 9006LL, etc.

Disclaimer

: This 9006/9005 LED decoders can be compatible for most European vehicles, yet we can not guarantee it fixes all problems. IF IT DOES NOT WORK FOR YOU, PLEASE CONTACT US AND WE WILL FIGURE OUT A SOLUTION!
9005, 9006, HIR2, 9012, etc
Fix LED bulbs flickering or error code
Alla Lighting warrants that its LED Conversion Kits will be free from defects in material and workmanship for ONE year from the date of purchase by the Original Purchaser. This warranty does not apply to any products that have been subjected to misuse, mishandling, misapplication, neglect (including but not limited to improper maintenance), improper installation, act of nature, motor vehicle accidents or alterations.
For more details, please click here.
One pair(2pcs) of advanced 9006/9005 LED decoders
Owner manual
Domestic (U.S.) Shipping
All domestic (U.S.) orders ship with USPS, and all orders will be shipped out within 24 working hours (except out of stock items), Free standard shipping.
All Orders will be shipped out within 24 working hours.
International Orders maybe charged customs clearance.
More details, please click here.
Check whether this bulb can fit your vehicle or not, check Bulb Size Guide for more details, please input your vehicle's Make, Year, Model, Qualifier, Applications to fast locate products options.
Vehicle's information:
2012 Chrysler 200
Simply works for 2012 Chrysler 200
Was having flickering and powering off issues with my 12 200 as the factory halogens use PWM from the TIPM. These CANBUS boxed solved all issues and it simply works. NO EXTRA LOAD RESISTORS NEEDED, just the LED and these things
Vehicle's information:
2016 Hyundai Sonata
Great decoder
The decoders did exactly what I need them to do, make my lights work! I used the decoders with another brand of 9005 bulbs and they did what they do and allowed me to use the other brands bulbs.
Vehicle's information:
2015 Ram 1500 Sport
1 x 9012 9006 9005 LED Decoder Canceler Capacitor CANBUS Plug-N-Play Warning Kits
I was having issues with my headlights on a 2015 Ram 1500 sport. I had switched my halogens to led and at first they worked good but would turn off after about 15 minutes. I looked everywhere for a solution until i came across this product. This product was AMAZING. Solved my issue right away and have not had any issues since installed about 2 weeks ago. Lights turn on every time. If you have a similar issue with your truck trust me this product works!
Vehicle's information:
2006 Toyota camry
Great product
Excellent customer service....easy install..
great instructions
Vehicle's information:
2019 Toyota 4runner TRD
Quality Products
I've replaced all incandescent bulbs in a 2019 4runner with Alla LED's. I purchased this hoping it would eliminate the flicker in the daytime running lights. It may have reduced it slightly but they definitely still flicker. It did however make them brighter. Too bright, honestly. We just won't be able to use the running lights anymore.
I have Alla's across 3 vehicles now. Great products.